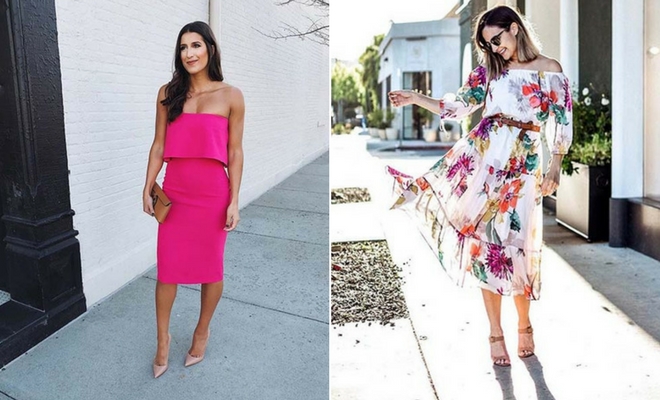 1. BOLD PINK DRESS IDEA
A must-have color for the summer is pink. Not only is pink stylish, but it is also one of the colors of romance which makes it perfect for a summer wedding! With that said, our first dress idea for wedding guests is this vibrant pink fitted dress. As you can see it looks beautiful and is perfect for a special event. You can also choose a different shade of pink or a different style of dress.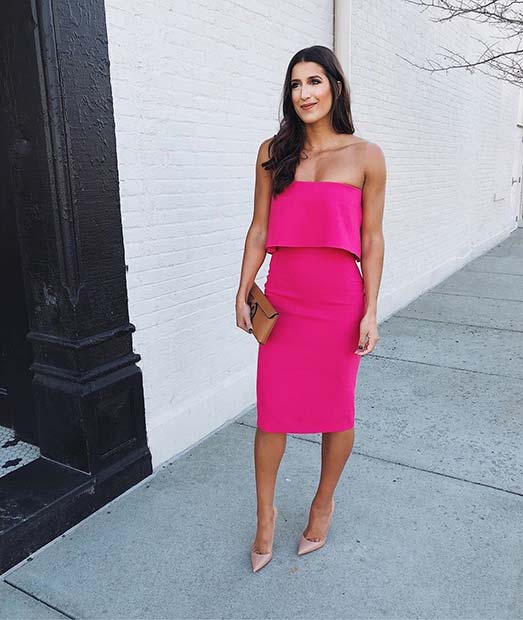 2. ELEGANT FLORAL DRESS WITH FRILLS
An easy print to wear at a wedding is floral. Our next idea is a great example of how to wear a floral print for the occasion. The dress is light which makes it look summery, it has an elegant pink print and the frills are a stylish feature. A dress like this can be worn by anyone and will look beautiful at any wedding.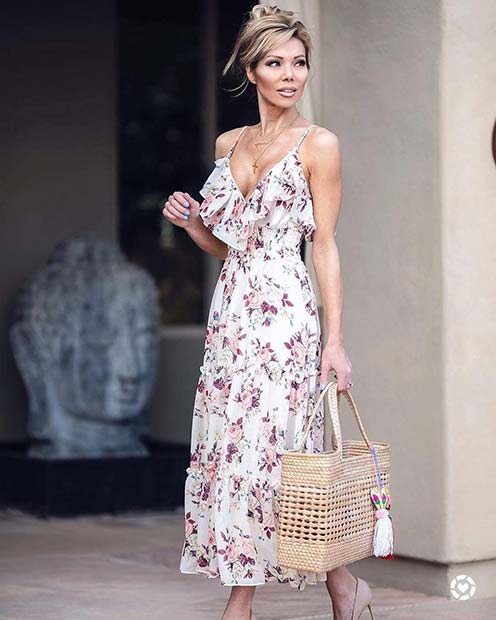 3. BEAUTIFUL BLUE BRODERIE ANGLAISE DRESS
Next, we have a beautiful blue dress idea. The dress is off the shoulder and has broderie anglaise or English embroidery. This embroidery is a stunning choice for the summer because it is stylish and light. You can have a dress with this technique in any color.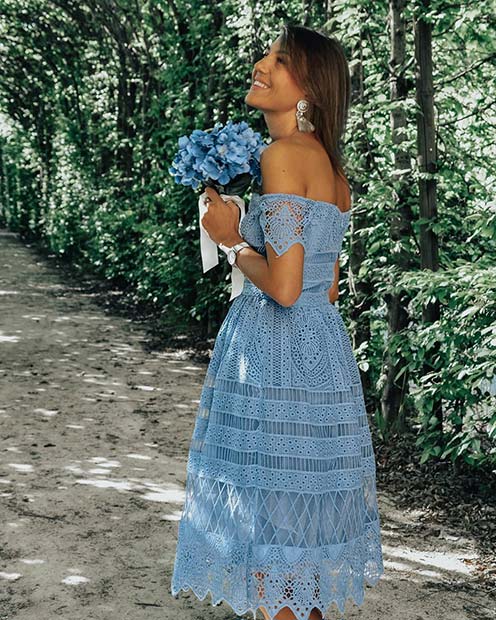 4. VINTAGE DRESS IDEA
Bring some vintage glamour to the wedding with a dress like the one featured. The floaty dress has a gorgeous floral print and belt. You can get similar dresses like this in all prints and colors so you can choose a dress that is perfect for you. Wear with a hairstyle like the photo to complete your vintage look.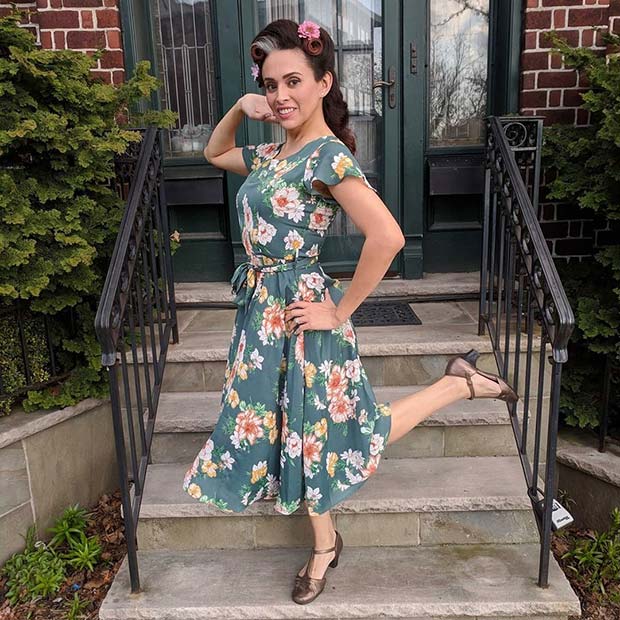 5. PRETTY OFF THE SHOULDER DRESS
Off the shoulder dresses are perfect for the summer. This next idea shows how to wear the style in an elegant way for a special occasion like a wedding. The fitted dress is in a pretty, light color and has a frill feature. You can get dresses like this that are floaty too. Wear with statement shoes or sandals that color match the dress.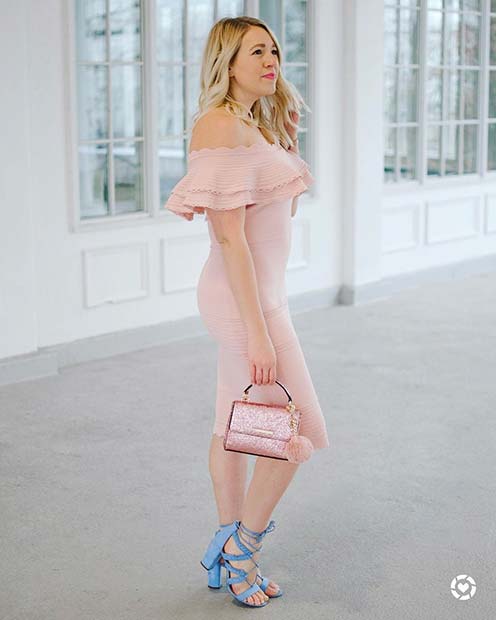 6. FLORAL DRESS AND BELT IDEA
A belt can make a big difference to the way a dress looks. Belts can show off your waist and can make long, floaty dresses look more fitted. Here is a great example of how you could style a belt with a floral dress. It is a beautiful look that would suit a summer or beach wedding.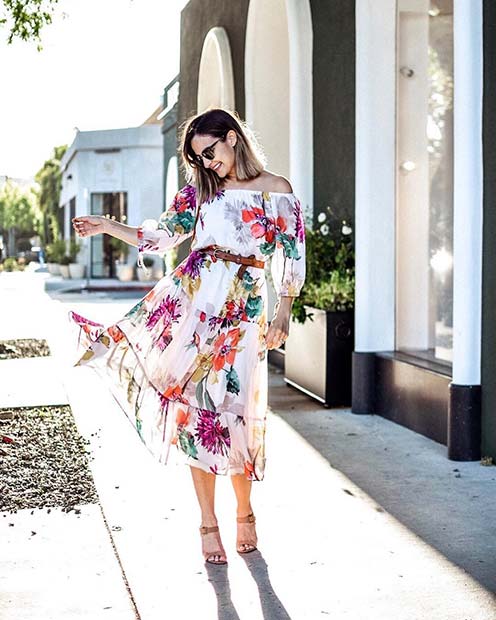 7. LIGHT DRESS WITH BOLD ACCESSORIES
Another way to jazz up a wedding guest outfit is with accessories. Here we have an outfit that is made up of a white dress and bold blue shoes, bag, shawl and hair accessory. The key to creating a colorful but elegant outfit like this is by choosing a color from a print. As you can see, the dress has a blue and green print and the accessories use the blue. You can create a similar look with any color.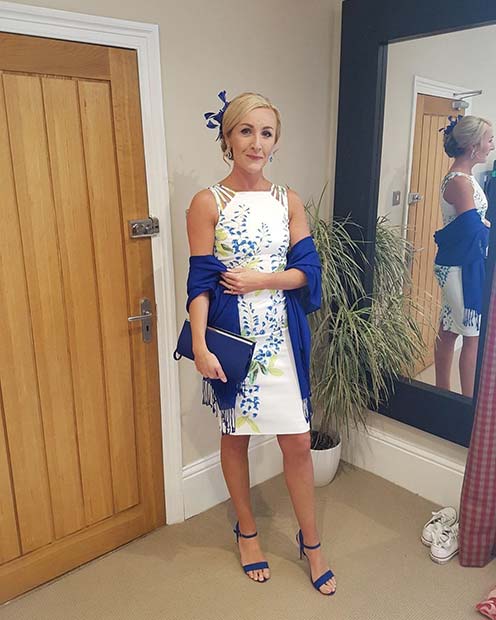 8. PASTEL PURPLE DRESS IDEA
A very popular color choice for weddings is purple, particularly light purple. Our next outfit idea features a super cute purple dress that is perfect for a summer wedding. The dress has beautiful sleeves and is elegant. With a dress like this you can match the color for your accessories too. There are many dress options in a similar color to suit anyone.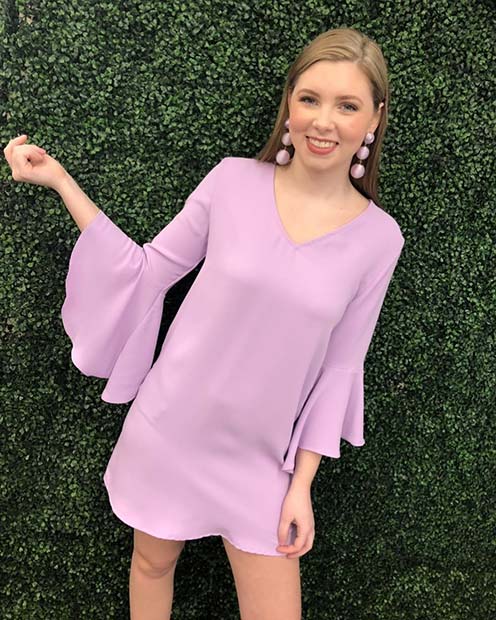 9. SUMMER WEDDING GUEST DRESS IDEA WITH FRILLS
Going to a beach wedding? Then this next dress could be the perfect choice. The dress is light, summery and stylish. It is short and has a beautiful frill detailing. A dress like this would look amazing on the beach but you can also glam it up with some heels and sparkly jewelry for other weddings in the summer too.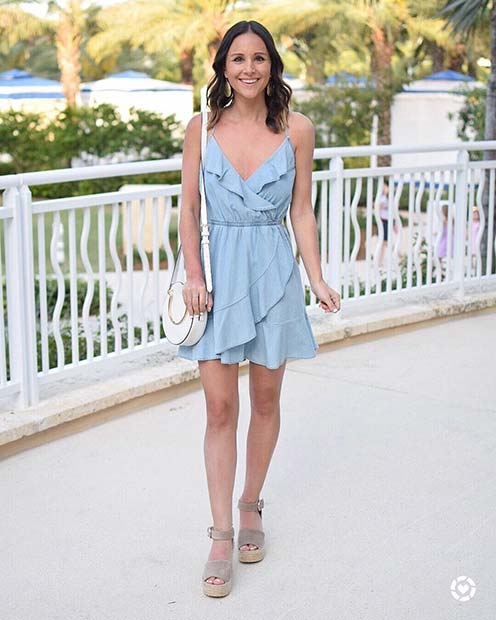 10. LONG, FLORAL PRINT DRESS
Long maxi dresses are a great choice for a summer wedding. These dresses will keep you cool but look very trendy too. The dress featured is a gorgeous example of what type of long dress you could wear at a wedding. It has a beautiful off the shoulder design and the print is elegant. Anyone would look amazing in a dress like this.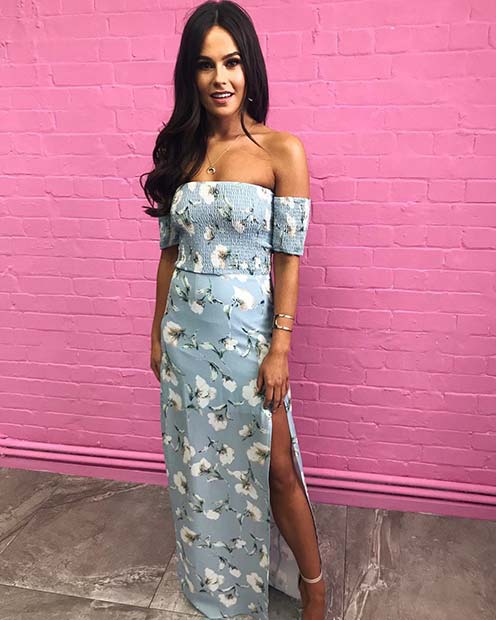 11. TRENDY ONE SLEEVE DRESS
Dresses with one sleeve have been in the style spotlight for the spring and summer. Many designers including Antonio Berardi have used this look in their collections. Our next idea shows how you could wear this trend to a wedding. The one sleeve dress has a pretty floral print and the frill feature is beautiful. You can buy dresses like this in any color and with any print.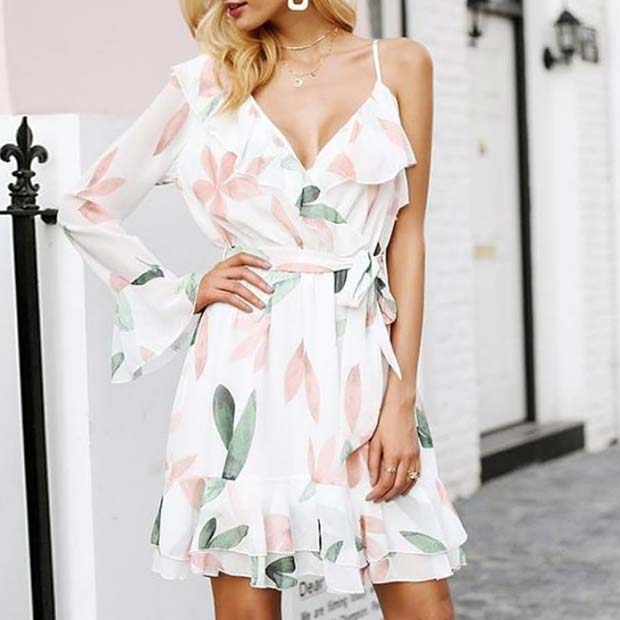 12. STYLISH PINK DRESS
Next, we have a super stylish statement dress idea. The pink dress is long and fitted with a multi tier peplum look. You can take inspiration from this dress and choose a long dress in a bold color or maybe use the peplum feature. A dress like this will wow!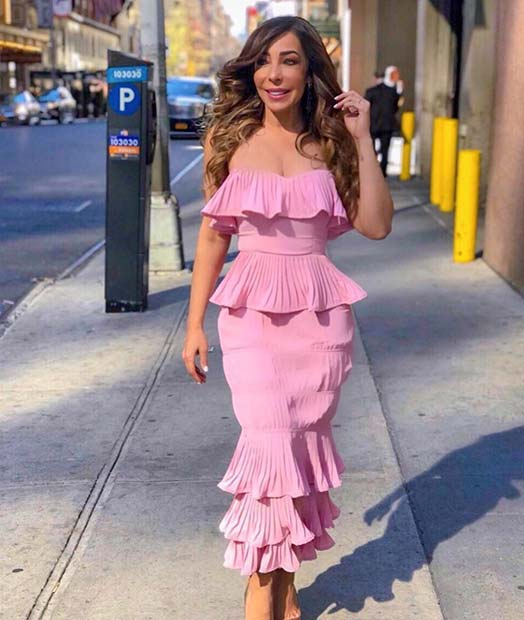 13. DRESS WITH RED AND PINK FLORAL PRINT
Our next dress idea features a romantic floral print. The short dress is white with a red and pink flower pattern. We love the red and pink color scheme for a wedding because these are the classic colors of love. Wear a dress like the one featured with heels, pretty sandals or wedges.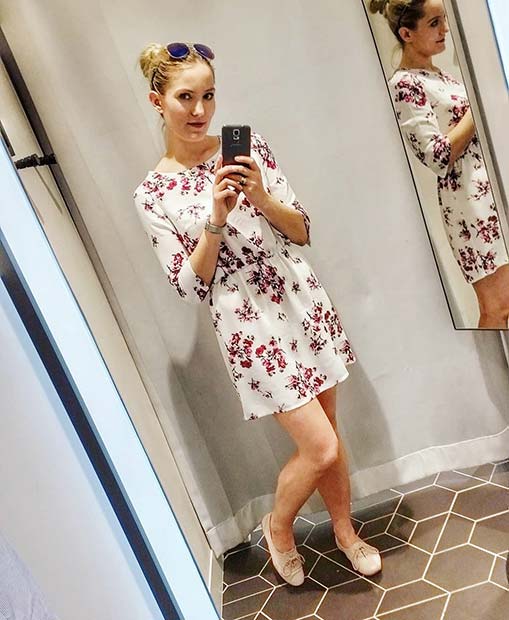 14. VIBRANT FLOATY DRESS
If you want to keep cool but look stylish for a summer wedding, then you could choose a floaty dress like the one featured. The fabric used is very light and colorful which is perfect for a hot sunny day. You can go for a dress with similar features like a belt or choose a simple, long and vibrant dress.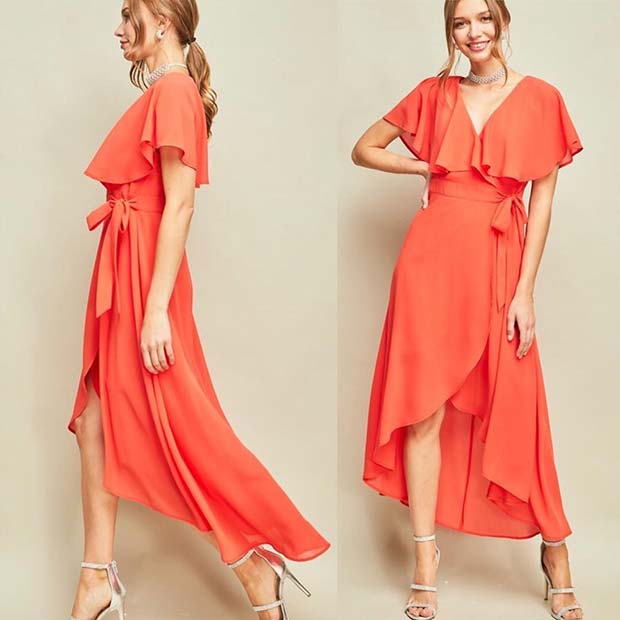 15. LIGHT SUMMER DRESS IDEA
Next, we have a summer dress idea that will suit any wedding. The sleeveless dress is in a very light blue color with a lace overlay. You can wear a dress like this with heels and glam jewelry for an elegant look or maybe try with sandals for a beach wedding. If the wedding has a bohemian vibe, wear with wedges and cute jewelry. A dress like this is versatile and will suit everyone.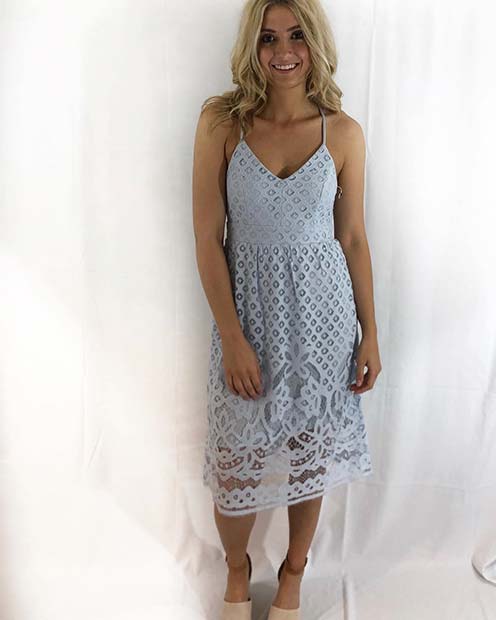 16. ELEGANT WHITE DRESS WITH FLORAL PRINT
Our next dress idea is for someone who wants an elegant and more classic wedding look. The dress is longer with long sleeves and it has a beautiful floral print. A dress like this would look chic with a hair accessory that uses a color from the print.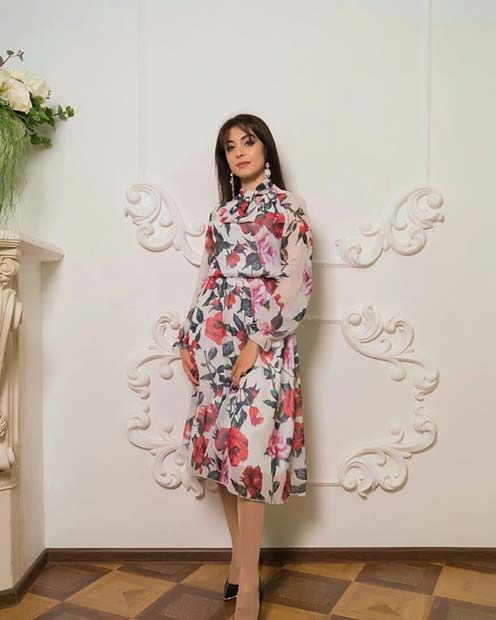 17. WHITE AND PINK DRESS FOR SUMMER
White and pink is a beautiful color combination, especially for a wedding. This next idea shows how you can wear the two colors together on a printed dress. The dress looks really stylish and would be perfect for any summer event. You can wear a print like this or wear a white dress with pink accessories or the other way around.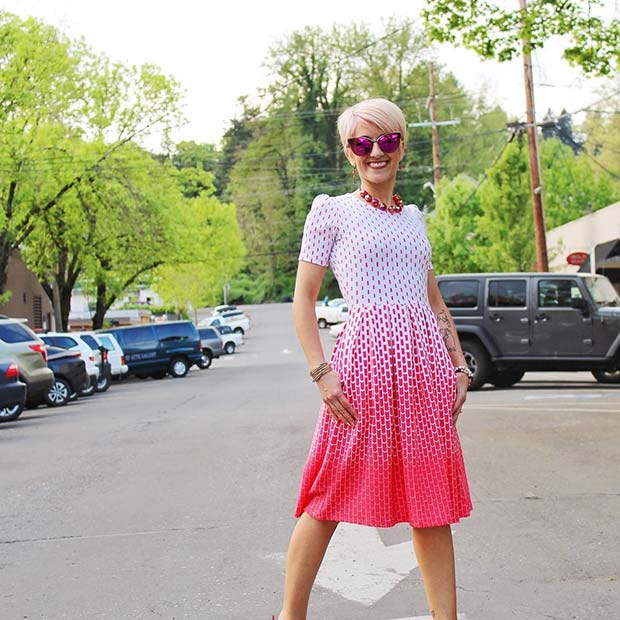 18. GLAM BLACK DRESS WITH FLORAL PRINT
Just because you are going to a wedding, it doesn't mean you can't wear darker colors. This next dress shows how you can wear black but look summery at the same time! It is a black, floaty dress with beautiful floral print. The lightweight fabric, style features and bright pattern make this black dress perfect for a summer wedding. There are many dresses like it too, if you shop around.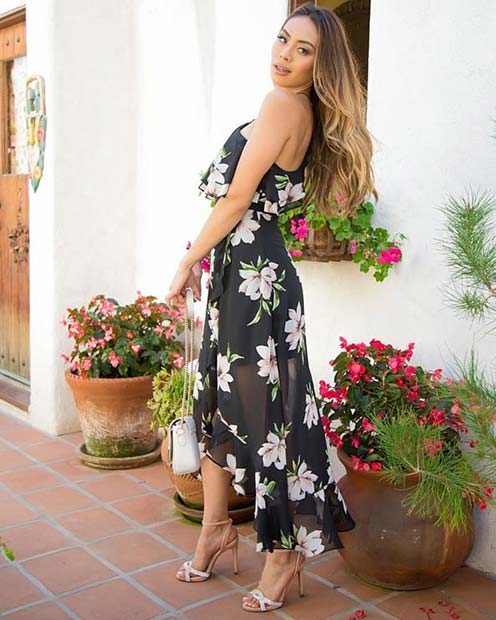 19. GORGEOUS ONE SHOULDER DRESS IDEA
Earlier in the post we talked about dresses with one sleeve. Our next idea is similar to that, but the look is more subtle. This dress is in a light color and is sleeveless on one side with a small strap on the other. We love how this dress uses one of the latest trends with such elegance and style. You can find many dresses like this online in a variety of colors.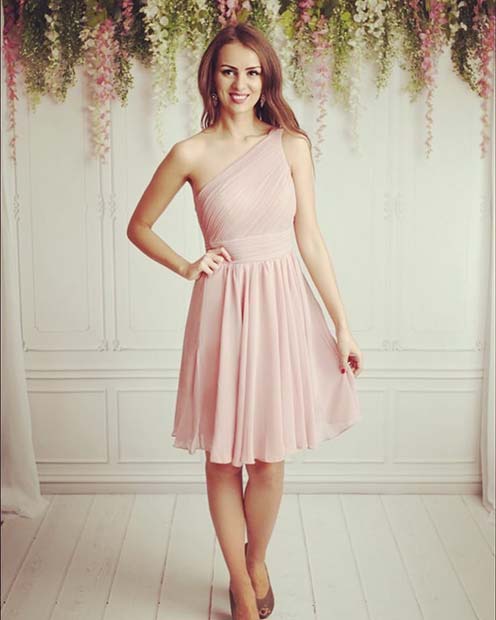 20. BOLD BLUE DRESS IDEA
Next, we have a stunning blue dress idea. We have featured some light blue dresses in this post but this shade of blue is darker and more bold. The dress also has a beautiful floral print. We love this dress because it looks stylish and designer. You can find dresses like this online by searching for blue dress with floral print. If the floral isn't for you then you could choose a plain blue dress in a similar color.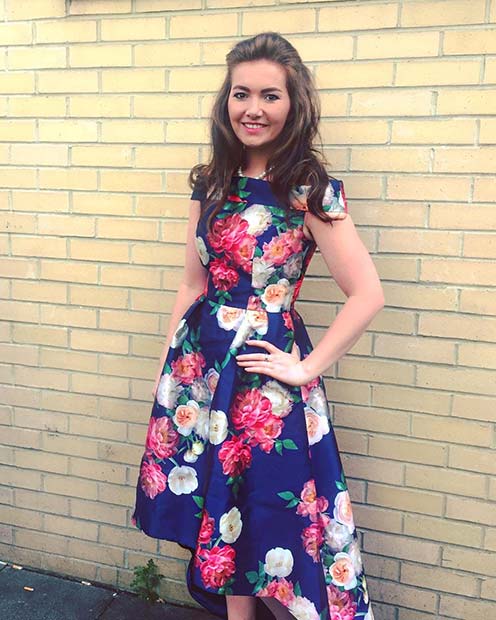 21. DRESS WITH STATEMENT MAKING PRINT
The last of our ideas is this statement making dress. The long dress is quite simple in design but has a beautiful bold print. You can really wow everyone at the wedding by choosing a bright, summery print like this. There are so many dresses out there with amazing prints, so shop around and find one you love!